Family medicine is a medical specialty that focuses on the overall health and wellbeing of individuals of all ages. Having a family physician permits continuity of care and favors better overall health outcomes for patients (1). It is estimated that approximately 1.5 million Quebecers do not have a family doctor. From those, 880 000 are registered on the Québec Family Doctor Finder (GAMF) in hope to be matched with a family physician (2). As explained by Dr. Michel Vachon, the president of the Montreal Association of General Practitioners, 400 additional family doctors are needed to fulfill the lack of services in family medicine practice in Montreal alone (2).
This situation is upsetting for many family doctors, who want to see better care for all Quebec citizens. Upon interviewing Dr. Rebecca Mahseredjian, a family physician working at GMF Sainte-Dorothée in Laval, she states: "We frequently encounter patients at the walk-in clinic who do not have a family doctor. Most of them have a list of health issues that have not been addressed properly for years, because they see different doctors each time at different walk-in clinics for many reasons, such as medication renewals, blood tests, etc. They lack a continuity of follow-ups for their health issues, eventually increasing the risk of complications of their diseases".
Interest in Family Medicine
The shortage of family physicians comes at a time when interest for the speciality appears to be decreasing (3). Unfortunately, during the last three years, the number of family medicine vacant residency spots has tripled. For instance, in 2021, 75 spots in this specialty stayed vacant in the province as compared to only one spot in all the other specialties (4). Hence, one may ask why family medicine is not attracting more students.
Breaking down the stigma of Family Medicine:
A study conducted in the UK in 2017 reported that 70% of medical students had come across negativity towards family medicine, 79% believed that their supervising staff during clerkship had negative views of this specialty and 91% of these students thought that their peers also held negative views (5). When assessing the effects of negative comments, it was identified that about 20% of medical students decided against their initial career choices, albeit not reserved exclusively to family medicine, due to bad-mouthing (6). Thus words and others' views have an important role in choosing one's future specialization. The cultural shift of seeing a general practitioner as a "gatekeeper who passes on problems to specialists" is not valid and the knowledge base and spectrum of care that family doctors are involved in must be recognized (7). This issue should be addressed by fostering a positive image of family medicine throughout a medical student's training.
Building interest in Family Medicine:
Manca, D. et al. (2008) identified challenges and solutions for the specialty to gain a larger presence and acknowledgement within the medical field (8). For instance, current medical school curriculums tend to have teachers predominantly from other specialties. Having more family physicians as role models and activity leaders during medical training will increase exposure to family medicine roles and skills. Having students work alongside and learn from preceptors who express eagerness and passion for family medicine with a full-scope practice was found to be the biggest factor in influencing students to choose family medicine (9). Rural family medicine rotations, which allow students to be exposed to the skills that a family physician can possess, and strong institutional support, enabling exposure and integration of family medicine into the curriculum, have also been identified as influential factors. Next, decentralizing medical education from a hospital-based setting to community-based practices will expose learners to settings where interactions and relationships are established between family physicians and other specialists while demystifying the role of a family physician (8).
Several efforts have been made by the College of Family Physicians of Canada (CFPC) to garner interest in family medicine. For example, family medicine was recognized as a specialty in 2007, thus tackling the division between family doctors and "specialists" and recognizing that family physicians have their own skills and expertise. To add, empowering family physicians with a more focused skill set via the enhanced skills training programs "may have contributed to some renewed interest in family medicine from students recognizing flexible career opportunities" (11).
Family medicine interest groups (FMIGs) were also created at each medical university in the early 2000s by the CFPC. Their mission is to promote better understanding of the scope of this speciality, increase exposure to family physicians and their setting and increase the number of students applying to family medicine (11). Events organized by the interest groups allow for an excellent opportunity to promote the strengths of family medicine. For example, the current co-presidents of McGill's FMIG felt that there were many misconceptions about the speciality, one of which being the picture of what a family doctor is and their role as a "general" physician. To tackle this issue, they created an event series in 2020 called "Fam Docs and Beyond" with its main goal being to expose students to family doctors that have narrowed their practice to select populations and domain-specific care, such as maternal health, cosmetic medicine, wilderness medicine and many more. This series of events permits to shine light on the various paths awaiting a future family doctor and showing the variety of practice one can have as a family physician.
A study conducted by Dr. Osborn et al. (2017) surveyed Ontario medical students to identify the main factors that influenced the decision to choose a career in primary care (10). Eight factors were identified: work-life balance, acceptable on-call demands, lifestyle flexibility, robust doctor-patient relationship, ability to form long-term relationships, provide comprehensive care, treat patients and their families and duration of residency program. Knowing what garners the interests of students to pursue a career in family medicine, this can be used to emphasize the strengths of this specialty.
Overall, considering the foregoing, a first and essential step in addressing the lack of family physicians in Quebec starts by building interest in family medicine within the medical student body. Several initiatives have been taken throughout the past years to address this issue and efforts should continue to be made in this direction with the hope of creating new cohorts of passionate family physicians who will be the positive change in tomorrow's healthcare system.
ABOUT THE AUTHORS
Myriam Stephan
I am a Med-3 student at McGill University. I am currently co-president of the Family Medicine Student Interest Group after being a Med-2 representative last year. I am passionate about family medicine and the variety of practice that one can build as a family physician, and I have a particular interest in promoting this specialty and advocating for improved patient care.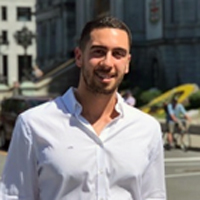 Mitchell Saklas
I am a third-year medical student at McGill University. I was inspired to write about this topic as I believe there is great value in preventive medicine and continued quality improvement that I intend on utilizing, hopefully, as a family physician. This compliments my background in promoting an active and healthy lifestyle as a physiotherapist and will allow me to provide care to my future patients that places their health first and meets their needs.
REFERENCES
Shi, L. (2012). The impact of primary care: A focused review. Scientifica. 2012:432892. doi: 10.6064/2012/432892
Hendry, L. (Oct 21, 2021). Patients fear their health will decline while they wait for Quebec family doctor. CBC.
Collier, R. (2018). Disrespect within medicine for family doctors affects medical students and patients. Canadian Medical Association Journal. 190(4): E121–E122. doi: 10.1503/cmaj.109-5542
Author unknown. (October 18, 2021. Causes et solutions à la pénurie de médecins de famille. TVA Nouvelles
Rimmer, A. (2017). Secondary care doctors denigrate general practice in front of medical students, study finds. British Medical Journal. 359:j5517
Hunt, D., Scott, C., Zhong, S., Goldstein, E. (1996). Frequency and effect of negative comments ("badmouthing") on medical students' career choices. Academic Medicine. 71(6): 665-669
Brown, C. (2018). Recognition of family physicians as experts rather than gatekeepers requires "cultural shift". Canadian Medical Association Journal. 190 (17) E550-E551;
Manca, D., Varnhagen, S., Brett-MacLean, P., Allan, G. M. & Szafran, O. (2008). Respect from specialists, concerns from family physicians. Canadian Family Physician.
Alavi, M. et al. (2019). Factors that affect student choice in family medicine. Family Medicine. 51(2):143-148
Osborn, H. A., Glicksman, J. T.,Brandt, M.G, Doyle, P. C. & Fung, K. (2017). Primary care specialty career choice among Canadian medical students. Canadian Family Physician. 63 (2) e107-e113
Ng, V. & Cirino, P. (2017). Family medicine interest groups: Strengthening the future of family medicine. The College of Family Physicians of Canada.